Make plans to help celebrate the ECS Graduating Class of 2023 at the official commencement ceremony tomorrow night, Friday, June 2 at 6:30 PM in the elementary playground field. Seating is on a first come basis and attendees must bring their own chair. Following the ceremony at approximately 7:30 PM the graduates will participate in a car parade through the village.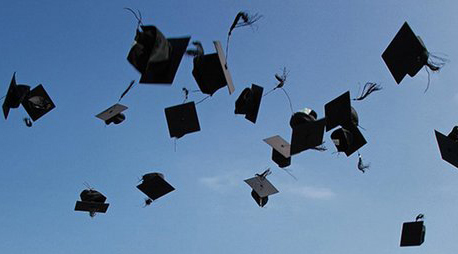 Today is the last day for Preschool and Club Lancer. Tomorrow is a half day - dismissal at 11:00am, no lunch served.

Attention Students, Parents, and Families - The Ellsworth Lancer Basketball program will be offering a free shooting clinic on Saturday, June 10 in the high school gym for any students who will be in grades 3-12 during the 2023-24 school year. Who - Any students in grades 3-12 (2023-24 school year) What - FREE shooting clinic Where - Ellsworth High School Gym When - Sat. June 10 (9-10:30 for grades 3-7 and 10:30-12:00 for grades 8-12) Why - Become a better shooter How - No need to register. Just show up on the 10th with a positive attitude ready to learn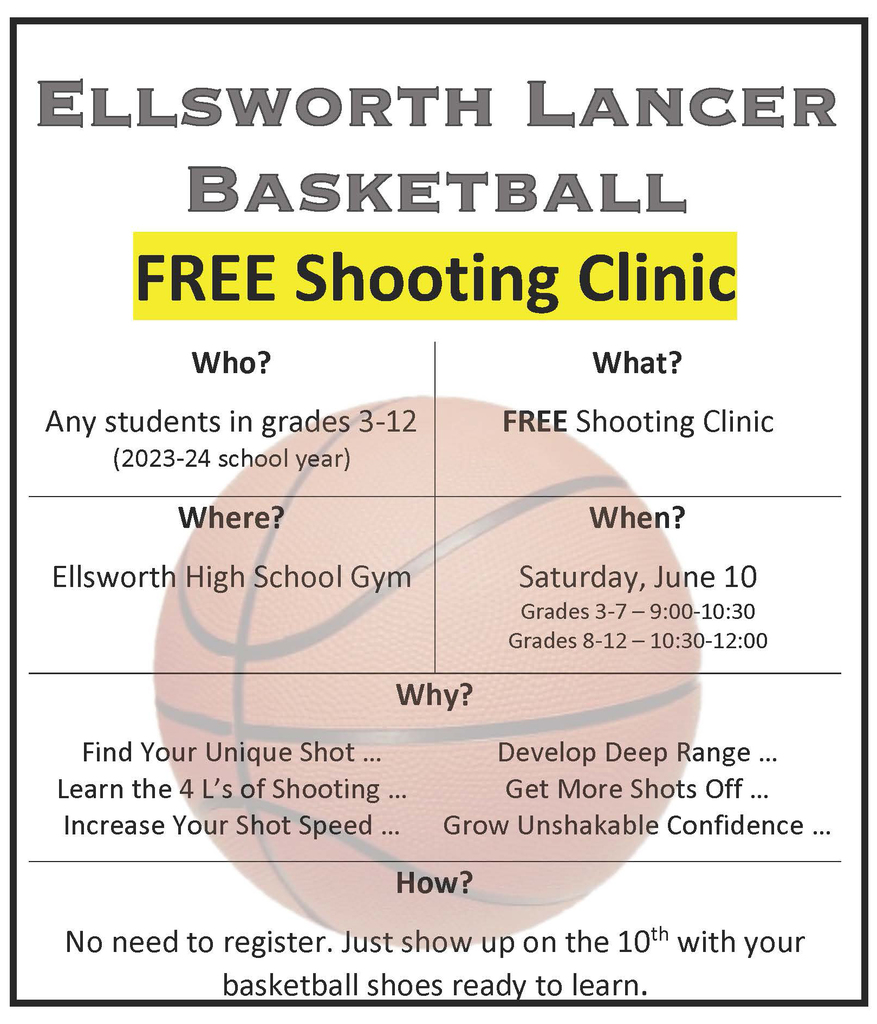 Join us on Tuesday, May 23 at 5:30pm for the Elementary Spring Concert: Down on the Farm! ECS Elementary students have been practicing diligently and they look forward to performing for family and the community! Program will take place in the Middle/High School Gym.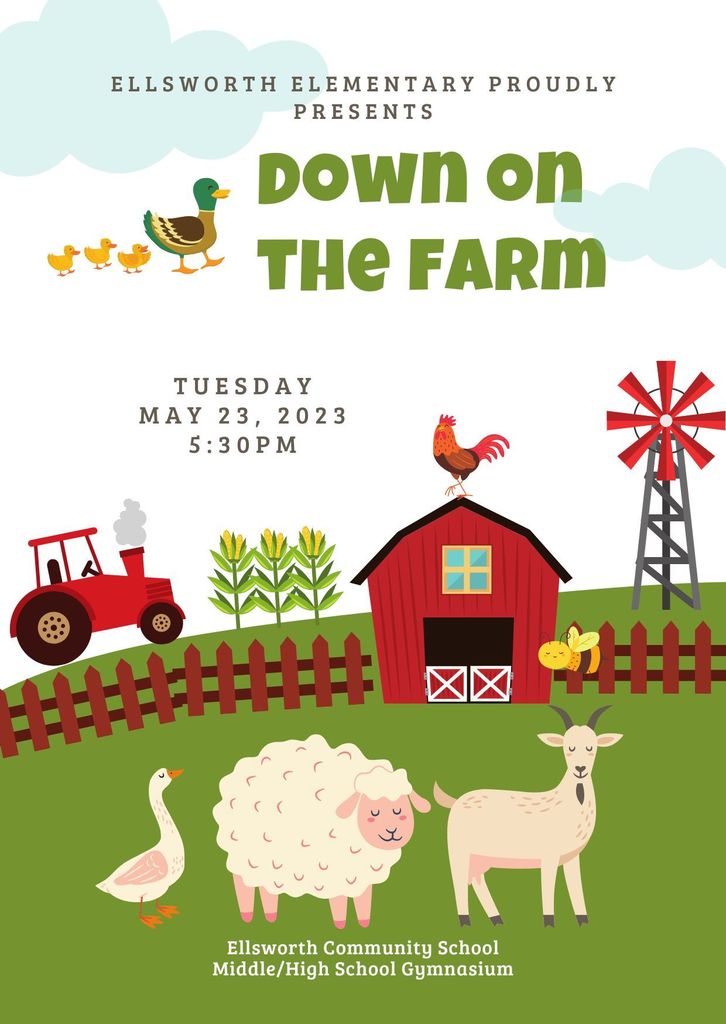 Reminder: Friday, April 7 is a half day with dismissal at 11am. There is no lunch served and no Club Lancer.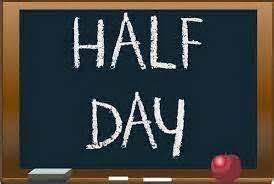 Attention ECS Sports Fans - As a reminder all home (and some away) JV/Varsity Boys and Girls Basketball games are live streamed on the NFHS Network. A subscription is required. On-demand recordings of past games are also available.
https://www.nfhsnetwork.com/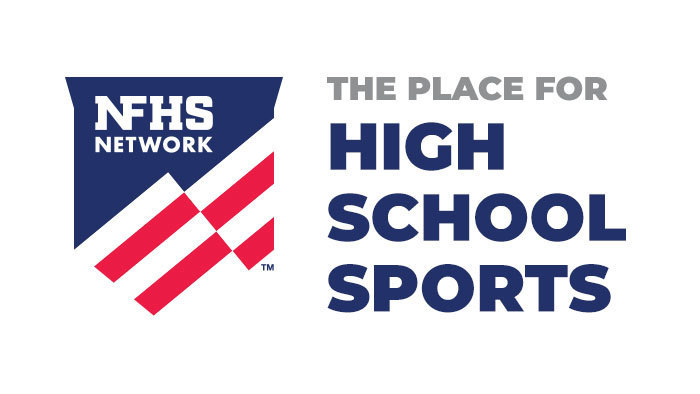 Make plans to join ECS on Wednesday, December 14 at 5:30 p.m. in the high school gym for our annual Elementary Christmas Program.

Make plans to join ECS on Thursday, December 1 at 6:00 p.m. in the high school gym for our annual Middle/High School Band Christmas Concert.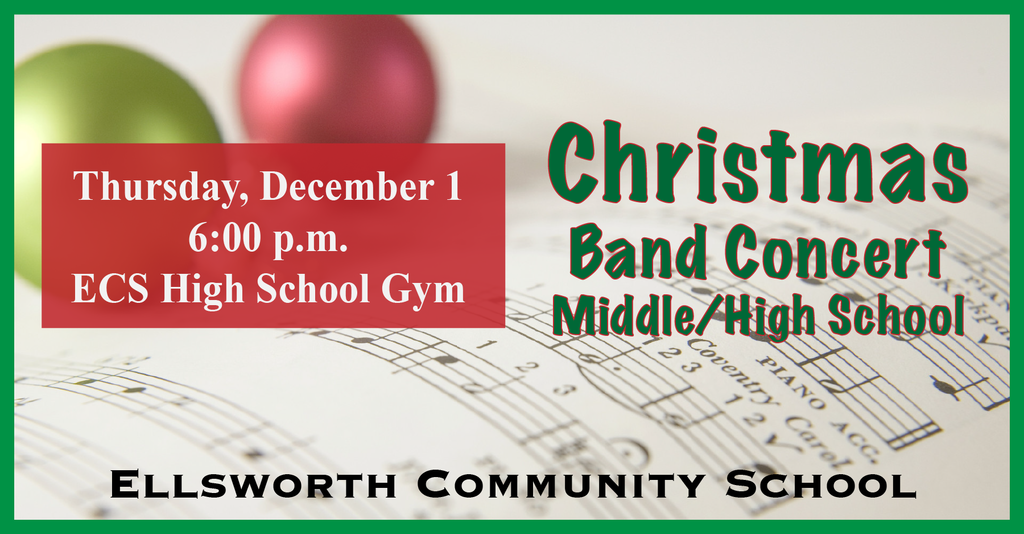 ECS is inviting all Middle School, JV, and Varsity fall sports student-athletes and their families to join us on Wednesday, December 7 at 7:00 p.m. in the high school cafeteria for a fall sports banquet. Please bring a desert to share and help us in celebrating the effort and accomplishments of all of our fall sports student-athletes.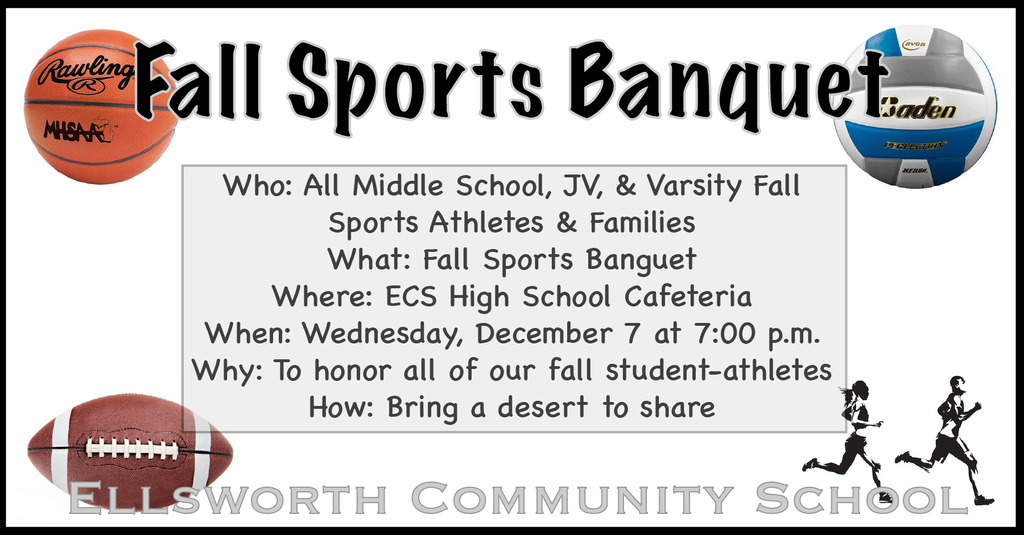 This Week in Lancer Athletics! Monday, August 22 • Girls JV/Varsity Volleyball home vs. Central Lake – 6:00 Tuesday, August 23 • Girls/Boys Cross Country – Taco Two Mile @ Petoskey – 6:30 • Girls Varsity Volleyball @ Mancelona Quad – 5:30 Friday, August 26 • Varsity Football home (Central Lake) vs. Brethren – 7:00 • Varsity Volleyball @ Johannesburg-Lewiston Invitational – 9:00 AM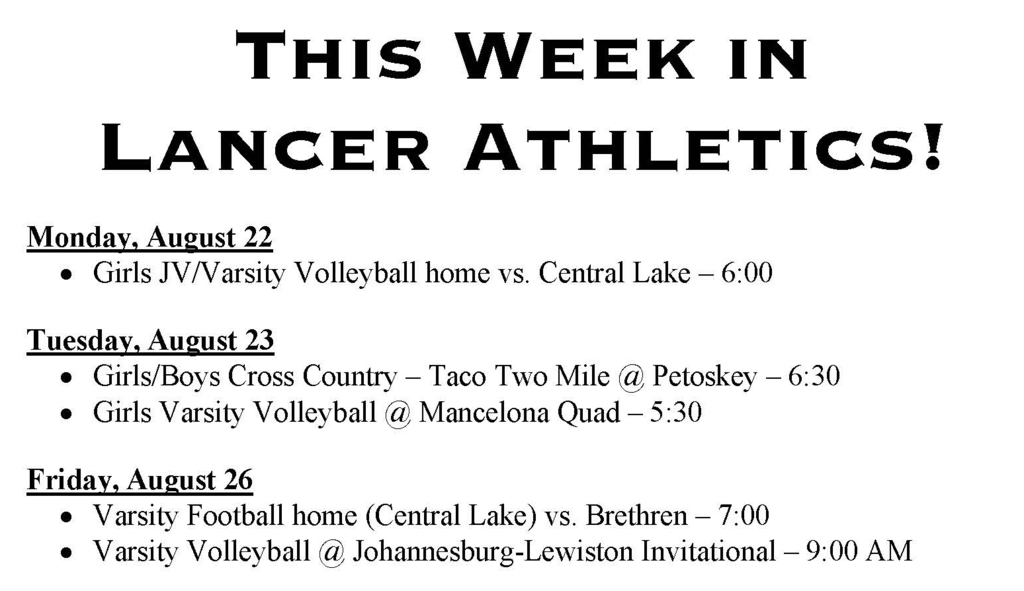 The Ellsworth Community School Board of Education will hold their organizational meeting on Monday, July 11 at 5:30 PM in the high school library.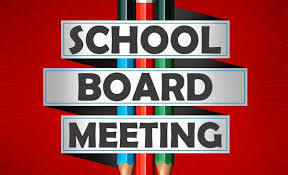 Art, Reading, & Music! Join us at the ECS Elementary tonight 5:00 - 6:30pm K-12 Art Show, Summer Reading Program, Book Fair, and Music Video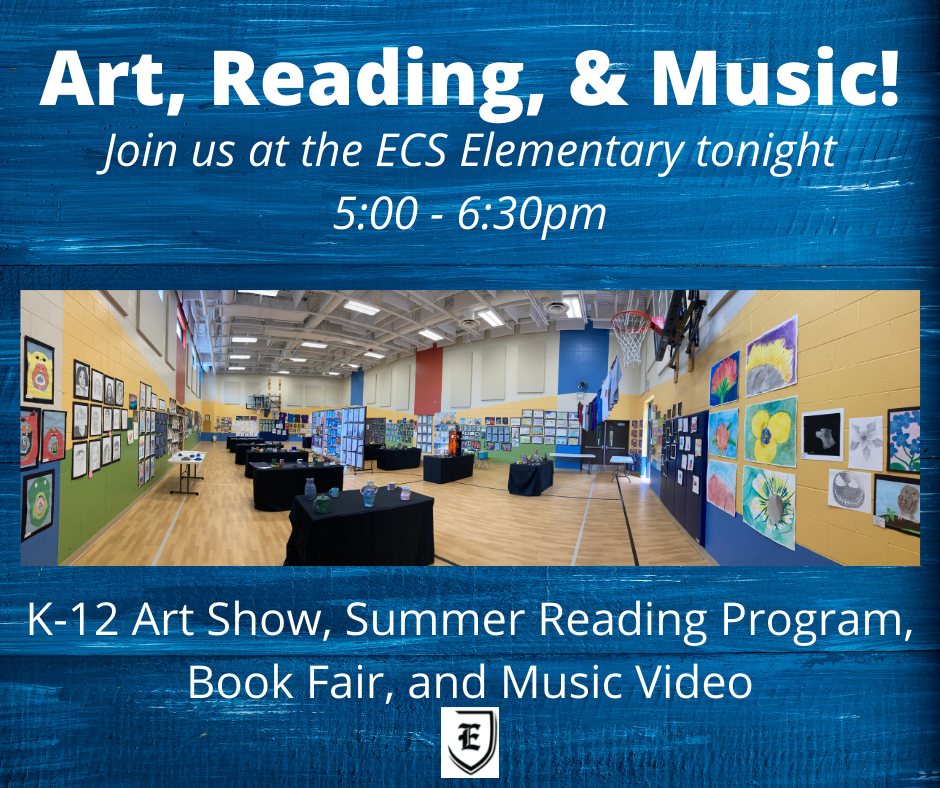 Senior Spotlight - William Hunter Schultz William Hunter Schultz, son of Mary & Barney Drenth and Todd Schultz, is a comedic member of the class of 2022. Will's hobbies include playing video games, watching movies, and visiting family/friends. One of Will's best memories from high school was winning the Robotics District Championship and continuing on to State Competition at SVSU. Will has represented ECS on the Baseball, Basketball, and Robotics teams. Will's favorite class in high school is the Utility Line-Worker Program. It is his favorite because he has developed a passion for climbing poles and working with his hands. Will is most proud of making it through 14 years of schooling. After graduation, Will plans to attend Alpena Community College for the Utility Line Technician program or apply for an apprenticeship. Will's favorite quote - "Tell me and I forget, teach me and I may remember, involve me and I learn" -Ben Franklin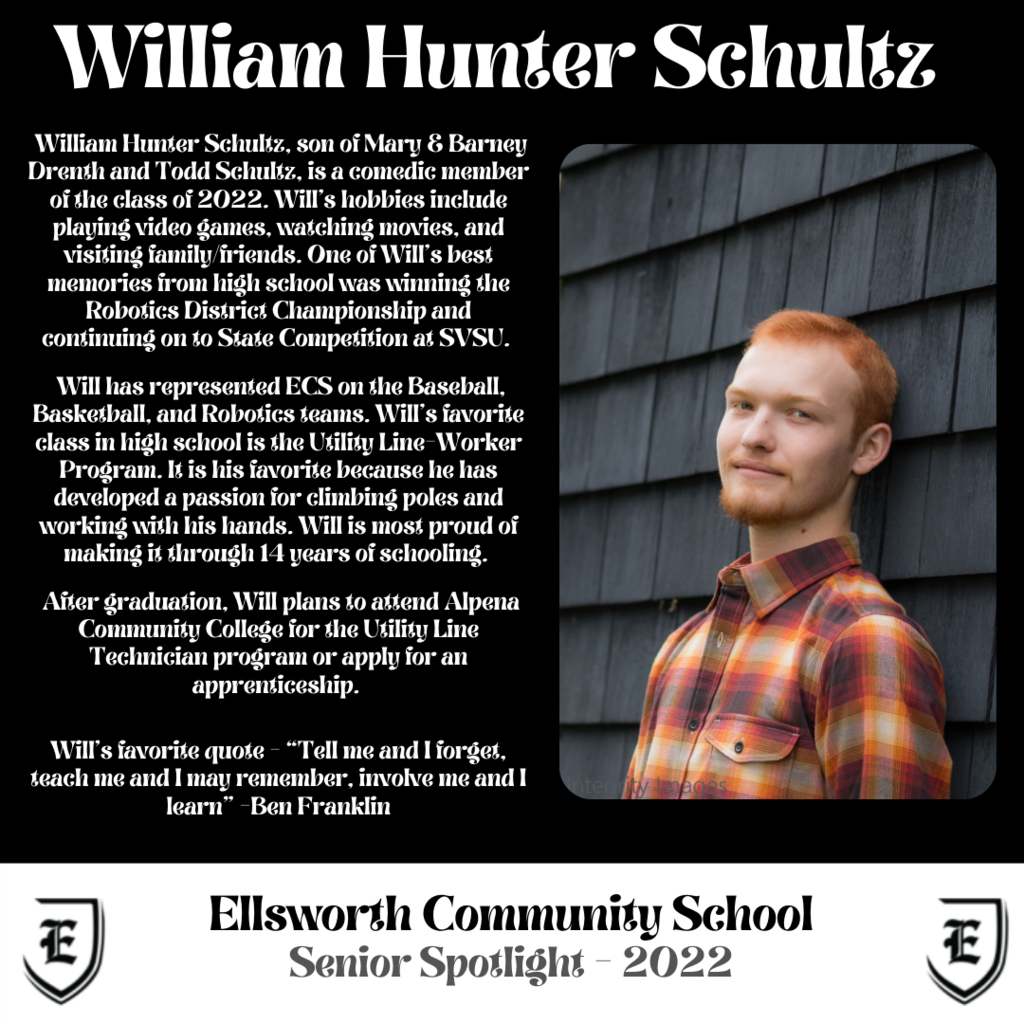 Senior Spotlight - Jonathan Douglass Drogt Jonathan Douglas Drogt, son of Angie and Warren Drogt, is a nature-loving member of the class of 2022. Jonathan's hobbies include mowing lawns, dirt biking, and firewood. One of Jonathan's best memories from high school was building a house. In fact, Jonathan is most proud of building a house during high school. Jonathan has represented ECS on the Cross Country and Basketball teams. His favorite classes during high school have been Welding and Building trades because he is a hands-on kind of person. After graduation, Jonathan plans to work over the summer and then join the Marine Corp in the fall. Jonathan's favorite quote - "When in doubt, throttle it out." -Anonymous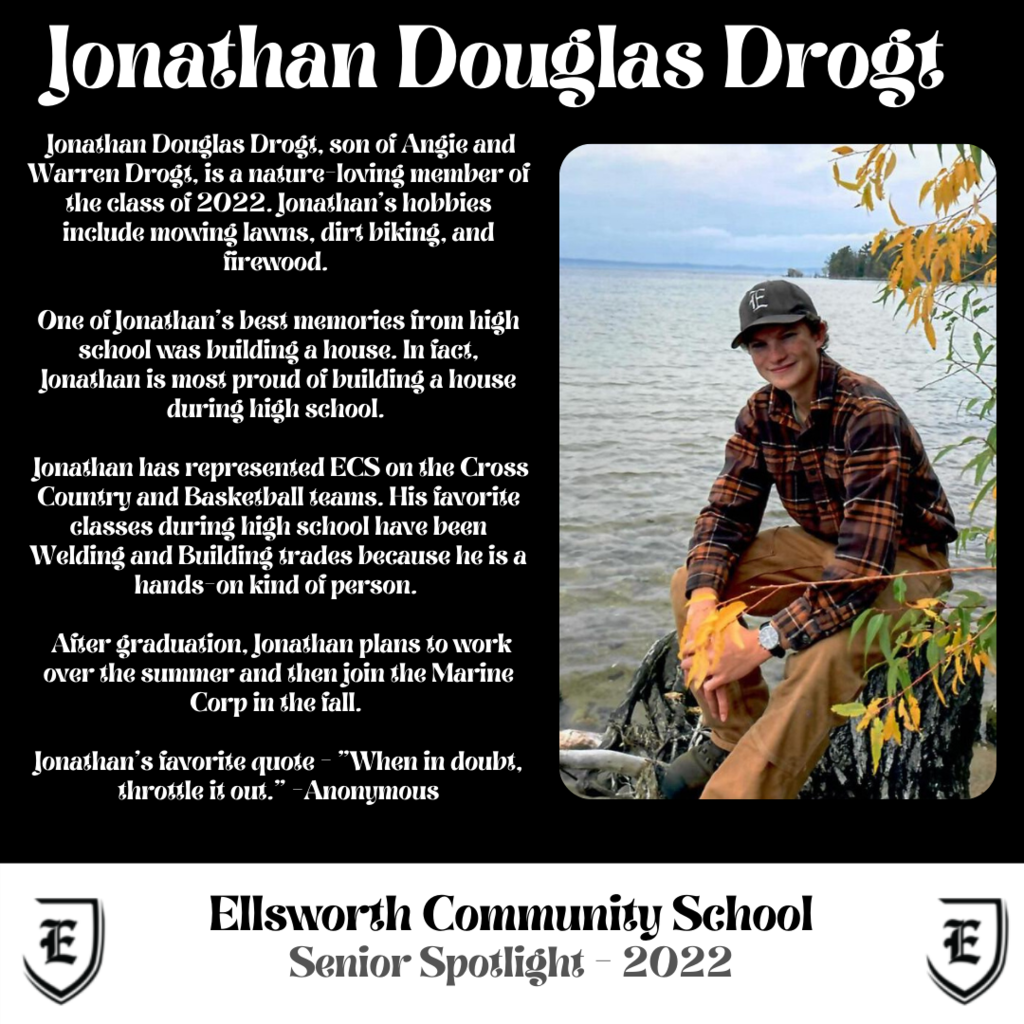 Senior Spotlight - Brayden Marshall Steenwyk Brayden Marshall Steenwyk, son of Linda and Bernie Steenwyk, is a driven member of the class of 2022. Brayden's hobbies include Football, Basketball, and Baseball. One of his best memories from High School was scoring 1,000 points in Basketball. In addition to this he has fond memories of winning districts in Basketball and Baseball. Brayden has represented ECS on the Football, Baseball, Basketball, and Quiz Bowl teams. Furthermore, he is Student Council President, a member of the National Honor Society, and SAFE in Northern Michigan. Brayden's favorite class at Ellsworth is Chemistry because he feels that it is way better than math. Brayden is most proud of winning back to back District Championships in basketball. After Graduation, Brayden plans to attend Ferris State University to earn a Bachelor's degree in Pharmacy or Nutrition. Brayden's favorite quote - "For what's money without happiness? Or hard times without the people you love? Though I'm not sure what's 'bout to happen next I asked for strength from the Lord up above'' -J Cole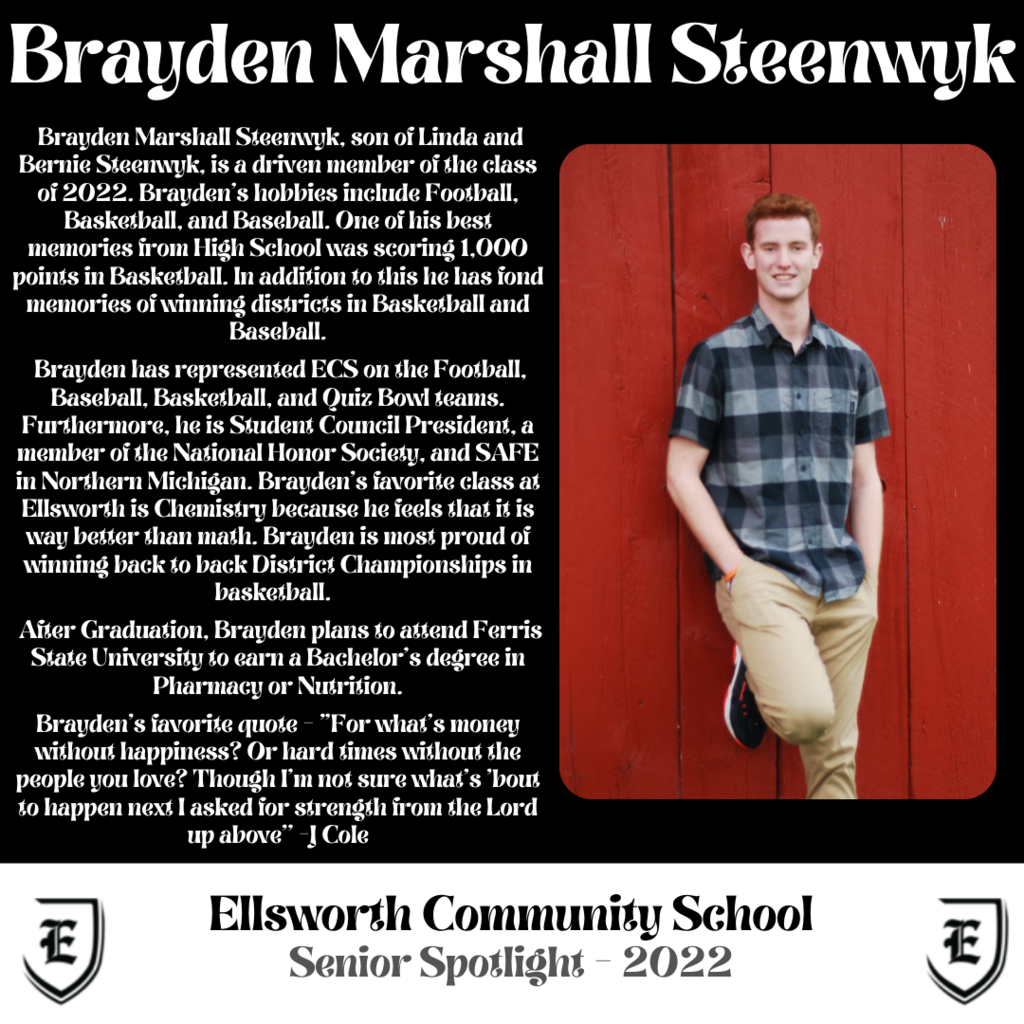 Senior Spotlight - Stephen James Paalman Stephen James Paalman, son of Katie Menestrina and Ray St.Amour, is the Salutatorian and comedic member of the class of 2022. Stephen's hobbies include writing terrible (some may say funny) senior spotlights. Stephen's favorite memory from high school is when he accidentally got an extra chicken tender at lunch. Stephen is a member of the Cybertronic Lancers, National Honor Society, and Quiz Bowl. Stephen's favorite class at ECS is lunch because it is guaranteed to not have homework. Stephen is most proud of eating four full plates at an Asian Buffet. After graduation, Stephen plans to attend Western Michigan University to obtain a Bachelor's Degree from the WMU College of Aviation. Stephen's favorite quote - "Good enough." -Anonymous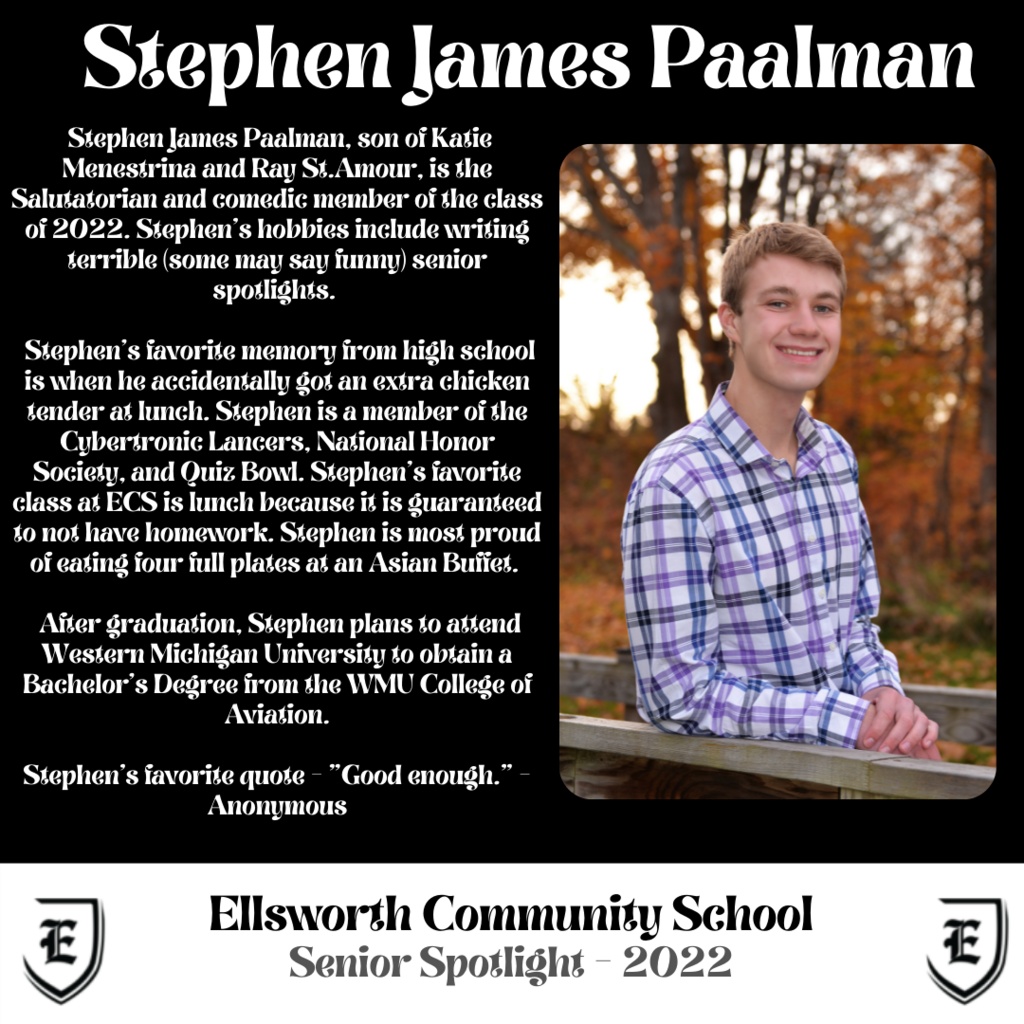 Senior Spotlight - Antonio Giordani Bartman Antonio Giordani Bartman, son of Sandra Lee Giordani and Rhett Warren Bartman, is a jovial member of the class of 2022. Antonio's favorite memory from high school is welding class. Antonio's favorite class at ECS is Tech Math. It is his favorite class because it has helped him with money management and other related things. After graduation, Antonio plans to attend a trade school.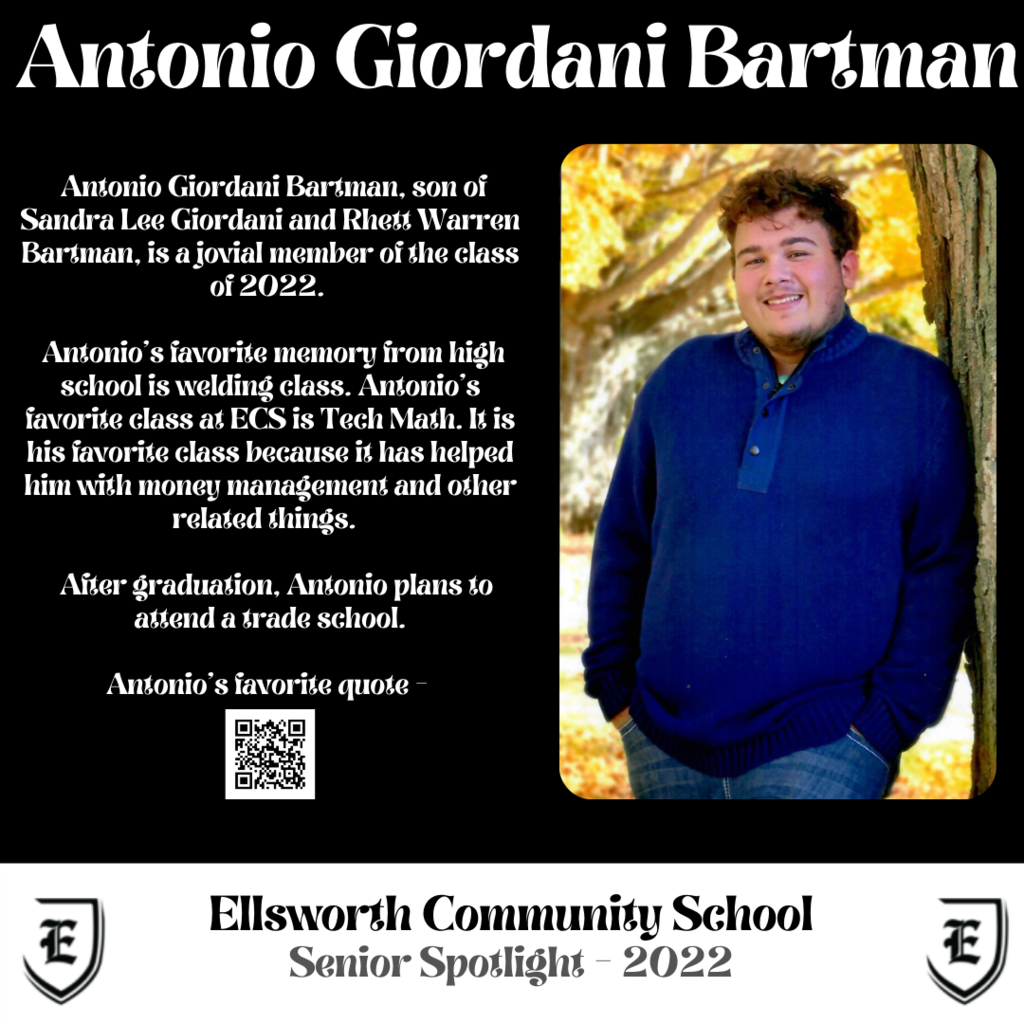 Senior Spotlight - Olivia Mary Strange Olivia Mary Strange, daughter of Megan and Mike Strange, is an athletic member of the class of 2022. Olivia's hobbies include Sports, Baking, and Painting. Olivia has represented ECS on the Volleyball, Softball, Basketball, and Cross Country teams. Olivia's favorite class at Ellsworth is Art, because she enjoys spending time with her friends and working on new projects. One of Olivia's favorite memories from high school is being named an All Conference Catcher her first year of catching. Olivia is most proud of winning the Pellston Softball tournament and qualifying for States in 9th & 10th grade for Cross Country. After graduation, Olivia plans to attend a Community College for two years, then transfer to a University to complete a degree in Social Work. Olivia's favorite quote - "It matters not what someone is born, but what they grow to be." -Albus Dumbledore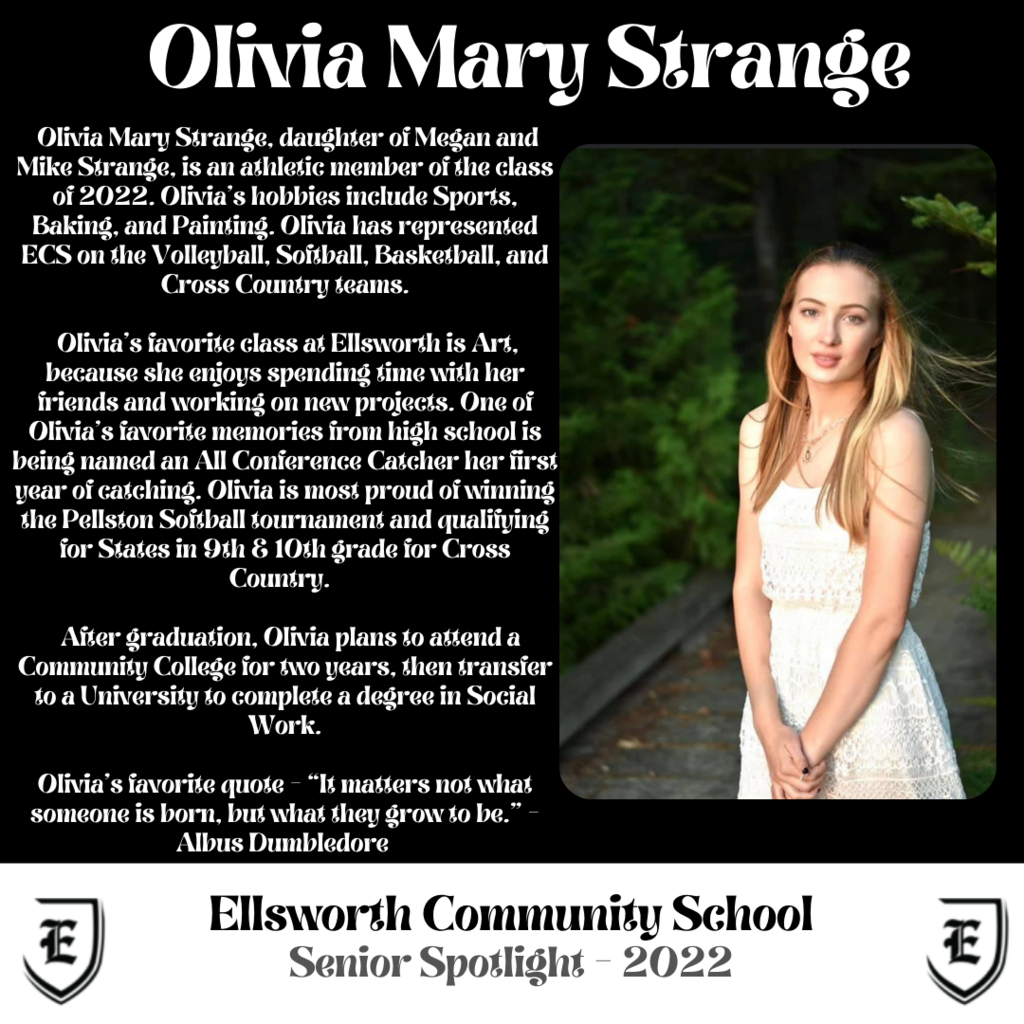 Senior Spotlight - Lillian Grace Sundstrom Lillian Grace Sundstrom, daughter of Molly Jo and Jake Sundstrom, is a caring member of the class of 2022. Lilly has represented Ellsworth on the Cross Country and Track & Field teams. In addition to this, Lilly is a member of the National Honor Society, Student Council, and the Youth Advisory Council. Her hobbies include hiking, water skiing, painting, roller skating, and playing the ukulele. Lilly's favorite class at ECS is History with Mrs. VanderHart. She feels that Mrs. VanderHart made it educational and engaging. Lilly is most proud of dropping 5 minutes off her personal record in Cross Country during her freshman year. After graduation, Lilly plans to attend Northern Michigan University to obtain a Bachelor's Degree in business with a minor in marketing. Lilly's favorite quote - "Thank you, Nicki, I love you." -Doja Cat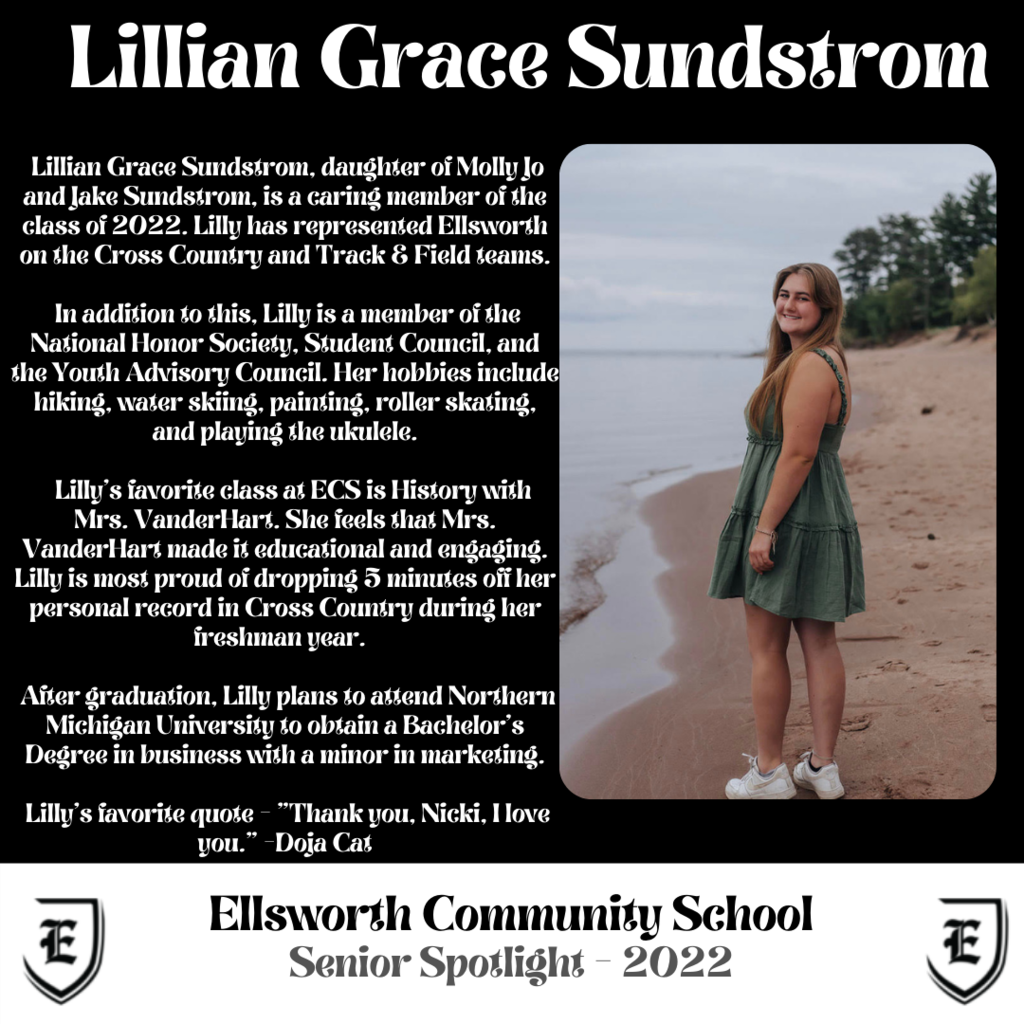 Abigail Nicole Mayes, daughter of Kristi and Joshua Mayes, is an artistic member of the class of 2022. Abby's hobbies include Art, Photography, and Sports. Abby has represented ECS on the Volleyball and Basketball teams. In addition to this, Abby is Vice-President of her class, a member of the National Honor Society, and Safe in Northern Michigan. Abigail's favorite class at Ellsworth is English because she finds the course work easy and entertaining. Abby is most proud of saving a child from drowning. One of her favorite memories from high school was fitting 7 people into their cardboard bathtub sled and going down the hill screaming. After graduation, Abby plans to attend Calvin University to pursue a degree in Studio Art. Abby's favorite quote - "Feel what you need to feel and then let it go. Do not let it consume you." -Dhiman