Students in 8th grade history have been learning about the judiciary system and are participating in a mock trial to understand court procedures.

Thank you to everyone who came out for our annual Veterans Day program this morning. ECS is proud to honor all who have served our country in this student led production.

Please join Ellsworth Community School for an evening of music at our PK-5 Elementary Christmas Concert on Tuesday, December 19 at 6:00 p.m. in the high school gym.

The ECS Senior Class will be sponsoring a Blood Drive on Thursday, November 16 from 12:00-5:45 p.m. in the high school gym. To schedule an appointment call 1-800-RED-CROSS.

It takes a village. ECS would like to send a "shout out" to Mr. Certa for always being there for kids; even when they want to go outside and play football at lunch on a snowy day.

CharEm ISD is filming Mr. Zimmerle's Graphic Design class as they print shirts in their new screen printing room.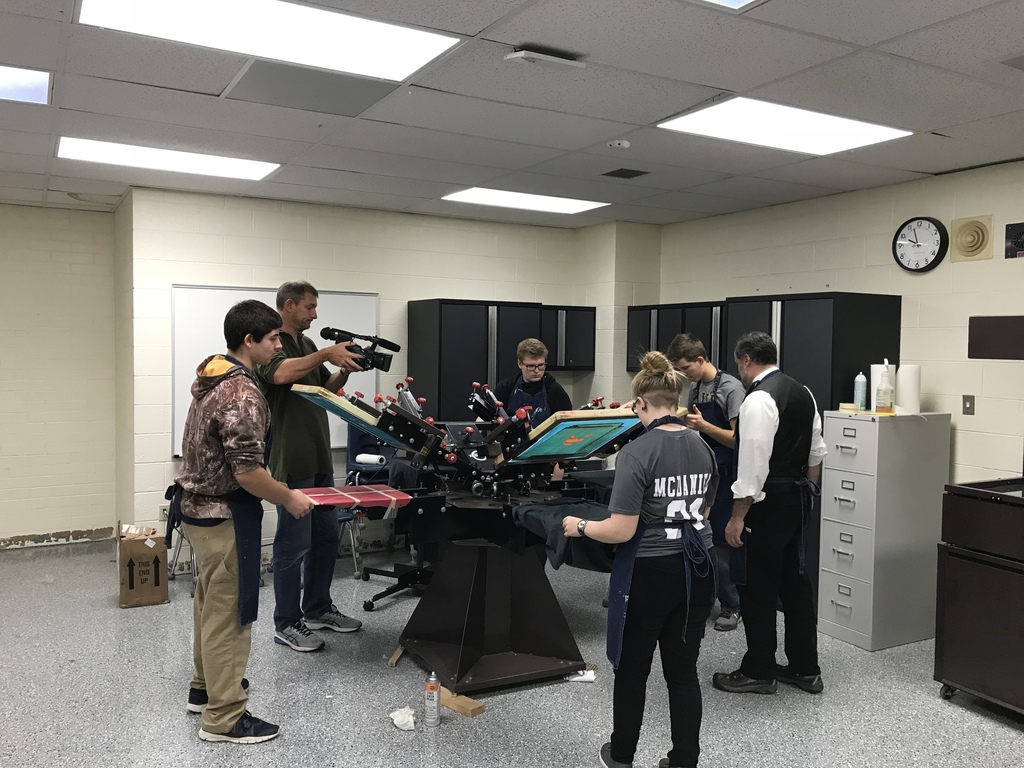 Students in Mr. Faivor's Integrated Science class have been designing rollercoasters as part of their study of physics and motion. An excellent example of STEM - Science, Tech, Engineering, and Math

Thanks to everyone who came out for tonight's band concert. Great job students and Mrs. Ford - you sounded great!

Make plans to attens the middle/high school band concert this evening (Wednesday, November 11) at 6:00 p.m. in the high school gym.

Congratulations to the ECS quiz bowl team on their 190-20 victory over Bear Lake in this morning's Quiz Central tournament at CMU.

High School Full Value Agreement All Stars enjoying lunch at Pigs Eatin' Ribs.

Middle School Science - Following engineering design principles, Science 7 constructed rafts to see how many pennies could loaded before the rafts sank.

The ECS Quiz Bowl team is competing today at CMU in the annual Quiz Central tournament. Good Luck!!!

Today Mrs. Terrybery's Life Skills class visited the Banks Township Town Hall to observe the voting process. Thanks to Mrs. Terryberry for making sure students are exposed to this opportunity.

Building Trades students in Mr. Certa's class are onto their next project; framing and setting walls for the new press box/concession stand at the elementary ball field.

It's Coffee Time. Parents are invited to join the ECS staff while enjoying coffee, tea and pastries on Friday, November 17 from 7:30-8:00 in the ECS Elementary cafeteria. Sponsored by the ECS PTO.

Congratulations to Central Lake-Ellsworth football on their win Friday night. The team now advances to the semifinals on Saturday, November 11 at 3:00 PM in Central Lake against Stephenson. Good Luck

Building trades students were given the assignment to install a frame inside the green house so a heater could be mounted. A job well done!

Ellsworth FFA members are attending the 90th National FFA Convention and Expo this week in Indianapolis, IN. The members are attending student leadership workshops and sessions, and learning about agricultural careers. These Ellsworth students are networking with ag industry leaders and over 65, 000 fellow members from all across the United States.

Congratulations to the boys and girls cross country country teams on their finishes at today's Class D State Championship meet. The boys finished 3rd and the girls finished 4th.